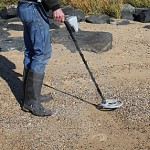 The beach is one of the best environments for metal detecting.   Everyone loves going to the beach, and wherever there's people there is treasure to be found.
Typical beach finds are coins and jewelry, but even if you don't find any treasure, hunting the beaches is a great way to spend a day.
Being out in the warm sun and soft sand, and hearing the waves and the smell of the surf. Plus, the sand is so easy to dig up.
Best Bounty Hunter Metal Detectors for the Beach
Bounty Hunter Sharp Shooter II
List Price: $299. Best Price: click here
Bounty Hunter Quick Draw II
List Price: $249. Best Price: click here
Bounty Hunter Tracker IV
List Price: $139. Best Price: click here
Best Fisher Metal Detectors for the Beach
Fisher CZ-21
List Price: $1149. Best Price: click here
Fisher 1280-X
List Price: $829. Best Price: click here
Best Garrett Metal Detectors for the Beach
Garrett GTI 2500
List Price: $1,100.  Best Price: click here
Garrett GTI 1500
List Price: $800.  Best Price: click here
Garrett GTP 1350
List Price: $700.  Best Price: click here
Garrett Infinium LS
List Price: $1,250.  Best Price: click here
Garrett Sea Hunter
List Price: $750.  Best Price: click here
Best Minelab Metal Detectors for the Beach
Minelab Excalibur II
List Price: $1,395. Best Price: click here
Minelab Excalibur 1000
List Price: $1,395. Best Price: click here
Minelab Excalibur 800
List Price: $1,395. Best Price: click here
Best Tesoro Metal Detectors for the Beach
Tesoro Vaquero
List Price: $525. Best Price: click here
Tesoro Cibola
List Price: $425. Best Price: click here
Tesoro Silver uMax
List Price: $299 Best Price: click here