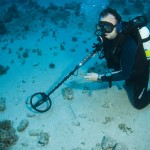 Stories of Pirate gold and old sea battles have fascinated us since childhood, and for some of us the lure of ancient maritime artifacts and relics is too hard to resist.
Diving shipwrecks and underwater treasure hunting demands a special metal detector that can be submersed.   You also need one that offers many levels of discrimination so you can turn it up to filter out the ship's hull and other junk metal, or turn it down when scouring the sea bed.  The great thing about these detectors is that they can also be used on land, making them very versatile: do some traditional coin shooting on the beach, or leave the land lovers behind and go underwater for real treasure.
We have listed the best waterproof metal detectors below to help you find your pirate booty.
Best Fisher Underwater Metal Detectors
Fisher 1280-X
List Price: $829. Best Price: click here
Best Garrett Underwater Metal Detectors
Garrett Infinium LS
List Price: $1,250.  Best Price: click here
All-terrain Land and Sea, perfect for gold prospecting, wreck diving, hunting heavily mineralized ground.  Non-motion All-metal mode, super-efficient battery usage, automatic GroundTrack.  Fully Submersible.

Garrett Sea Hunter
List Price: $750.  Best Price: click here
Underwater master, full range PI discrimination, adjustable audio threshold, salt elimination mode, discrete trash elimination, multiple mount positions – hip mount / scuba mate / full-length.  Fully Submersible.
Best Minelab Underwater Metal Detectors
Minelab Excalibur II
List Price: $1,395.  Best Price: click here
Minelab Excalibur 1000
List Price: $1,395. Best Price: click here
Minelab Excalibur 800
List Price: $1,395. Best Price: click here
Best Tesoro Underater Metal Detectors
Tesoro Tiger Shark
List Price: $749. Best Price: click here
Tesoro Sand Shark
List Price: $679. Best Price: click here